3rd Gen Nest Learning Thermostat (New Ring Colors Available)
MODEL: T3016US
Please select a thermostat
Color
Please select a Color
PRODUCT FEATURES
Meet the 3rd Gen Nest Learning Thermostat™
The Nest Thermostat programs itself, automatically helps you save energy when you're away and can be controlled from anywhere.
And now the 3rd gen Nest Thermostat is thinner, sleeker and more beautiful than ever. The display is even bigger and sharper.
A ring for every home
The Nest Thermostat has a ring to fit any home's style. Choose copper to add a warm touch. Stainless steel is perfect for a classic, versatile look. Black blends in with dark walls and stylish decor. And white looks great in simple, modern homes.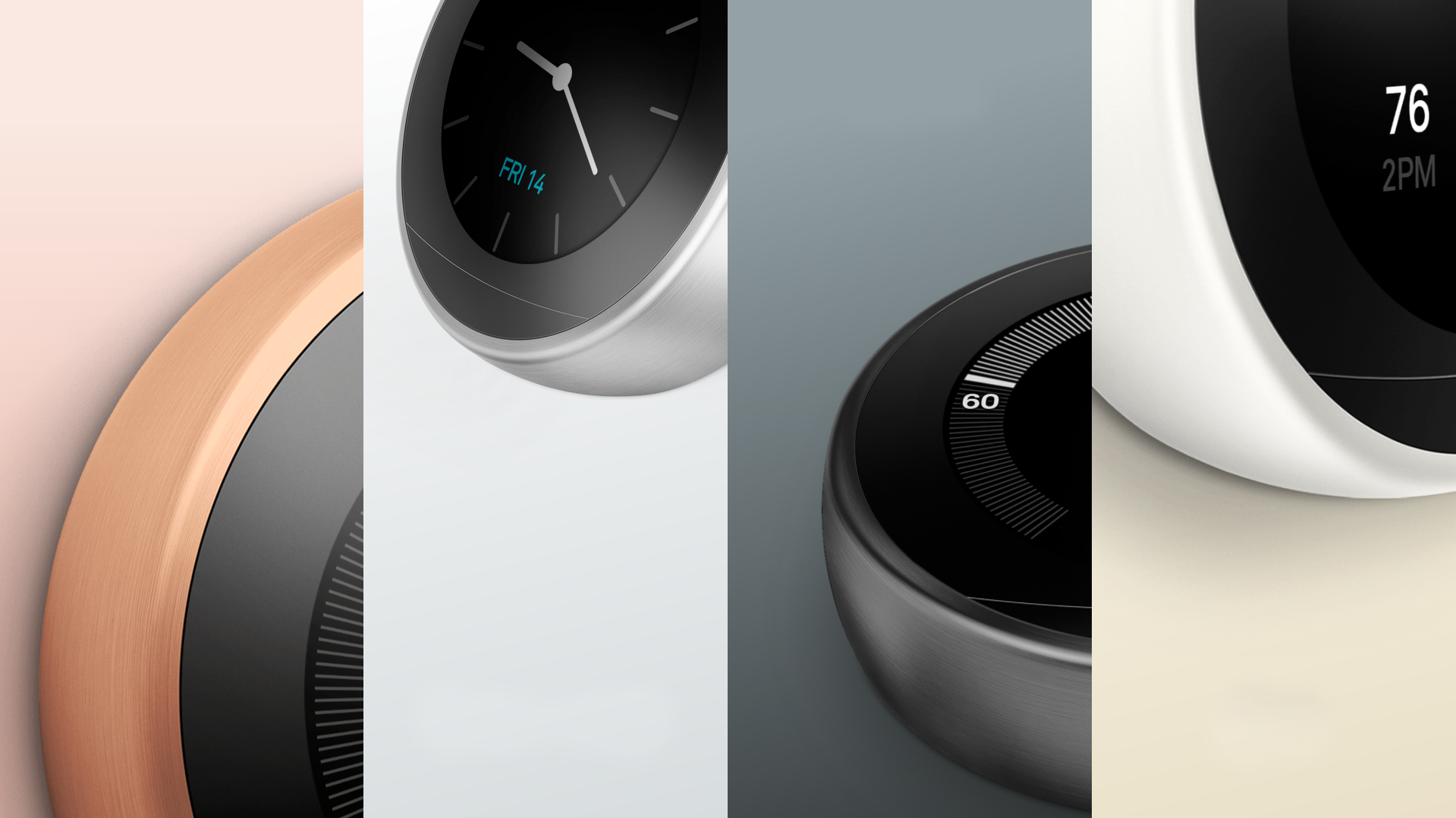 PRODUCT BENEFITS

Farsight
When Nest spots you across the room, it lights up to show you the time or the temperature you set.

Nest Leaf
The Nest Leaf appears on the display or in the Nest app when you choose an energy-saving temperature.

Auto-Schedule
No more confusing programming. Nest learns the temperatures you like and builds a personalized schedule for your home.

Home/Away Assist
Don't waste energy heating or cooling an empty home. Nest automatically saves energy when you're away.

Airwave
This unique technology helps you use less air conditioning while staying perfectly cool.

Remote Control
Change the temperature from anywhere with your smartphone, tablet or laptop.
Shipping Restrictions
Nest Thermostats cannot be shipped to PO boxes.
Installation
The Nest Thermostat works in most homes with low voltage systems — make sure it'll work in yours. Most people install it themselves in 30 minutes or less.
ENERGY-SAVING POTENTIAL
Your thermostat controls half your energy bill – more than appliances, more than electronics. So shouldn't it help you save energy?
Nest shows you how much energy you use every day in Energy History and every month in your Home Report. So you can see when you use more energy, like on weekends or Monday nights, and how to use less. Saving has never been so easy.
INSTALLATION
Before you purchase the Nest Learning Thermostat, please make sure that your heating and cooling system(s) are compatible. You can easily check your HVAC compatibility by using our thermostat buyer's guide.
C-wire is not required
A c-wire (also referred to as a common wire) is a low voltage power wire that many modern thermostats require for their features to work.
This Nest Learning Thermostat does not require a c-wire to work. Nest has a built-in battery that can be charged using the heating and cooling wires.
Nest however recommends that you connect a c-wire if you already have one. To determine if you have a c-wire, please remove your old thermostat's cover plate. You should see several wire terminals labeled with letters. If a wire is connected to the "C" terminal, you have a c-wire.
ACCESSORIES & RELATED PRODUCTS
Nest Protect™ smoke + carbon monoxide alarm
Your heating system could be a source of carbon monoxide leaks or it could spread smoke through your home in a fire. If there's a carbon monoxide leak, Nest Protect can tell your Nest Thermostat to turn off the heat. If Nest Protect detects smoke, your Nest Thermostat can turn off the fan.
Learn more about the Nest Protect
---
Nest Cam™ IQ
Nest Cam IQ is an indoor security camera with serious processing power, so it can do smart things like tell a person from a thing. If Nest Cam IQ sees a person while you aren't home, it will trigger an automatic alert with a zoomed in photo of what it sees. Then, track the action real-time in 4k resolution.
Learn more about Nest Cam IQ
---
Nest Cam™ Indoor
If you have a Nest Cam, it can automatically turn on alerts when you set your Nest Thermostat to Away. So when you go on vacation, your thermostat turns itself down, and Nest Cam turns itself on.
Learn more about the Nest Cam Indoor
---
Nest Cam™ Outdoor
Nest Cam Outdoor is beautiful, weatherproof and can help keep your home safe. Security, rain or shine. On your phone 24/7.
Meet the Nest Cam Outdoor
---
If you still have any questions regarding the Nest Thermostat, Nest Protect or one of the Nest Cams, please contact our customer support team.
REBATE DETAILS
No rebates available